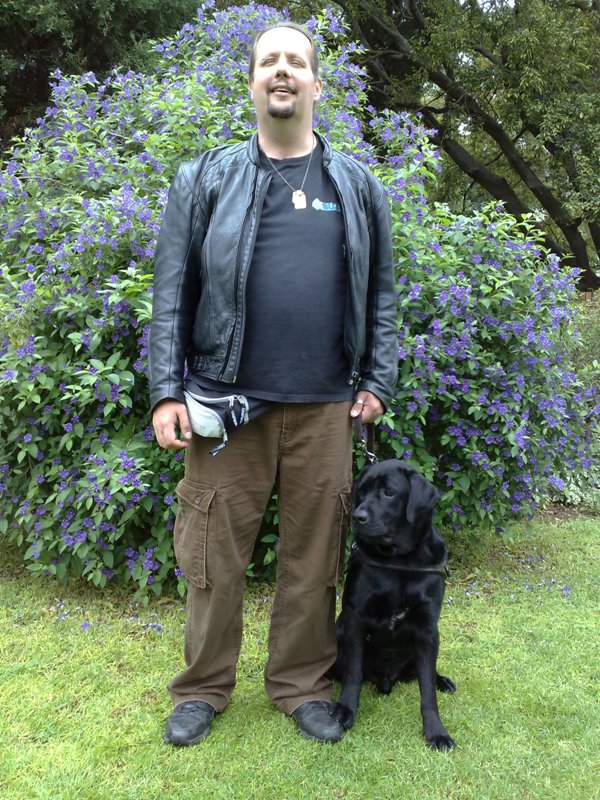 Me and my new guide dog
I went in for guide dog training at SA Guide dog association starting on 24 January 2009, and met my dog on the following Monday, the 26th, and his full name is Inzamam-ul-Haq, named after a cricket player: (Wikipedia.com article on actual guy), and to be honest, when we used to play cricket in school a while ago, at one stage, I remember that if someone on our side scored a 4 or a 6, we'd sometimes shout "Ul Haq!"
Anyway, the original guy's nickname was Inzy, and me and my friends just call my dog Inzy, or Impi - like the Johnny Clegg song about Zulu warriors, which I played for him on his 2nd birthday, the 12th of February, or Ozzy (Ozzy Osbourne, and my bike club is named after one of his songs, but I also have a few other names for him, like calling him my drag-racing dog when me and him walk quite fast down the road together - LOL!
While I was staying in the training centre hostel for the 3 weeks before being able to bring Inzy home, I maintained a form of diary/log to keep track of how it went, and what we learnt, and while it wasn't necessarily kept completely up to date, you can see it here (text file). I am currently still trying to carry on working on all the routes we worked on during the after care process, and that includes me getting used to the feelings of independence etc., and it's an ongoing process, so let's see how it goes.
Finally, here's a link to a small video clip of an interview etc. they did with me and him at the guide dog training centre:
The life and times of a guide dog